About
What are Brimz?
Brimz are patented sunglasses designed with 100% UV protection that incorporates a wrap-around shield lens, with a patented "Clip & Flip"' Nylon frame. This frame attaches to the sides of the brim on any standard baseball-style cap or visor. Brimz are made in the USA, featuring a shatter-resistant polycarbonate lens that is hard-coated and scratch-resistant. When not in use, Brimz easily flips up and hides beneath the bill of the cap and does not interfere in your line of vision.
Several available frame colors make Brimz virtually undetectable. When needed, Brimz flip down perfectly into place… EVERY TIME!
Brimz was chosen as "Product of the Year" by Softball Today Magazine in 2002 and HSL Sports.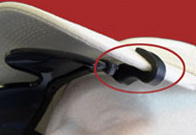 Brimz are designed to NOT TOUCH THE FACE, offering unmatched comfort and convenience. You can adjust Brimz by easily sliding them along the bill of the hat. This allows a perfect fit every time. Brimz even fit over most prescription eyeglasses!!
With Brimz, the consumer has sunglasses when and where they want them. Some people do not want or cannot wear sunglasses all of the time. For most people, sunglasses hanging around the neck and constantly getting in the way is not the preferred option. Brimz addresses all of these concerns and more.
Features & Benefits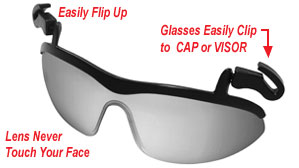 Patented "Clip and Flip" Design
Allows wearer to have sunglasses available with just a "flip" while allowing them to be "removed" instantly.
Contact-Free Design
Brimz Sunshaydes are designed so that they never touch the face, offering unmatched comfort and convenience.
Fully Adjustable
Easily adjusts for a perfect fit every time. They even fit over most prescription eyewear.
Polycarbonate Lens
Shatter resistant, optical quality lens offers 100% UV protection. Made in the USA.
Superior Nylon Frames and Clips
Brimz sunshaydes are virtually indestructible.
Hard Coated Lens
Scratch-resistant.
Recommended Usages
Black Ice
Our most popular lens, Black Ice is great for any outdoor activity. Its subtle smoke-like appearance offers 100% UV A/B protection from the sun without compromising sight during low light conditions. From bicycling to tennis, and softball, to mountain climbing and everything in between, these lenses are most versatile for everyday outdoor use.
Amber Ice
This lens was designed with the hunting/shooting sportsman in mind. The yellow lens is excellent for brightening your surroundings in flat light, early dawn, or late dusk situations. Snowboarders, skiers, and hikers also agree that Brimz comfort, style, and function are second to none.
Fire Ice
Designed for golfers, Fire Ice lenses are perfect for those looking to take away glare, without losing the contrast between the white ball and the green of the fairway. This lens is also popular among the elderly and those looking for a lighter lens. Golfing, gardening and other outdoor activities that do not require a dark-shade lens bring Fire Ice to light.
Clear Ice
As a protective lens, this wrap-around style shield allows unmatched comfort without compromising vision. All of our lenses are Z87 rated by ANSI and are scratch-resistant and shatterproof (excluding polarized). Perfect for use at work, on the job, mowing the lawn, or just working in your garage.
Mirrored Ice
Designed for those who need the maximum shade protection a sunglass can offer. Our mirrored Brimz comes in four colors, Sapphire Ice, Emerald Ice, Golden Ice, and Kryptonite. From baseball players to racecar drivers, many have commented on the superior wrap-around design that offers optimal light reduction.
Polarized
The polarized lenses were created for the person with an appetite for water sports. We offer Polar Ice Brimz in Brown (for low light) and Smoke (for bright light) colored lenses. When glare from the water is an issue, it is not problem for Brimz. For hunting, fishing, kayaking, canoeing, boating, or just being a spectator on the water.